The Extra Chilli Megaways slot, which is the follow-up to Bonanza (Megaways), is powered by Big Time Gaming. It features 6 reels and up to 117,649 ways to win, and can be played on all devices, including mobiles, starting from 20p per spin. This highly unpredictable slot game includes symbol drops where winning symbols are replaced by new ones, allowing you to win multiple times. In the game Extra Chilli Megaways, there is a Free Spins feature that allows you to gamble for additional free spins. When you enter this free spin feature, your multiplier will increase by 1 for each successful win, and there is no maximum limit to this. This game is highly volatile but has the potential to award up to 20,000 times your stake on each free spin. To learn more, read our review of Extra Chilli Megaways.
Pros
20,000 x stake max wins
Considered 1 of the best Megaways slots
Gamble wheel nice addition
Cons
Very volatile so hard to win big
Bonanza Megaways offers 26,000 x stake max wins
Extra Chilli Megaways: Slot review
The upcoming release of Extra Chilli is a sequel to Bonanza, which is one of the most popular first online casino slots ever released. Big Time Gaming announced the release of Extra Chilli during the London iGaming conference this year, and this news has generated a lot of interest among both players and operators. The Australian iGaming studio is known for hyping every new game, and it has become the equivalent to Apple in the iGaming industry.
The main game
The game "Bonanza 2 Extra Chilli" is a slot machine from Big Time Gaming. This provider is known for creating slots that have very high volatility. The game has 6 reels and many paylines that can range from 0.20 to 50 EUR. The maximum bet is slightly higher than the original Bonanza slot machine. Like the original, it has symbol drops that can replace winning symbols with new ones, resulting in multiple wins. Although the main game still has some exciting features, Big Time Gaming has put more effort into making the bonus game even more thrilling and unpredictable. I will discuss this in more detail below, so continue reading.
Initially, the title appeared confusing as it followed Bonanza, but it later became clear that the miner left his job to pursue his lifelong dream of opening a Chilli stand. It makes perfect sense now. The background of the game features a Mexican food market with purple chilli and garlic on either side of the play area. Extra Chilli has replaced the diamonds and gems with four different types of crystal chillies, making the low value symbols remain as before. The purple crystal chilli is the most valuable among them and offers a payout of 50x for six of a kind. Apart from that, the game also features a wild symbol, the Fireworks symbol, which substitutes for all symbols except the Scatter.
Extra Chilli RTP, variance & technical data
To understand Extra Chilli's features better, here are some technical details we'd like to share:
– The game's RTP is 96.82%.
– Extra Chilli has high volatility.
– The layout of the game is 7x7x7x7x7x7.
– It has up to 117,649 paylines to win.
– Some of Extra Chilli's bonus features include Substitution Symbols, Megaways, Free Spins, Gamble, Multipliers, Scatters, and Wilds.
– The betting range for Extra Chilli is between 0.2 and 50.
– The maximum coin win for Extra Chilli is 1,000,000.
The game has an RTP slightly higher than average, meaning it pays back 96.82% over time, not on every playing session. The high volatility can result in bigger wins but requires a strong bankroll, a high tolerance for risk, and suitable bet levels to handle significant fluctuations.
Big Time Gaming is popular for their Megaways™ game engine which uses a unique method of increasing the paylines to a large extent, creating an unpredictability that adds thrill to every spin. The number of active paylines changes every time you play, setting the game apart from others. The game offers an astonishing 117,649 ways to win, which is quite exceptional and makes it even more exciting.
The Megaways feature, combined with the symbol drop respins, creates a distinct play dynamic. Each spin introduces a new set of paylines, and every successful symbol explosion allows for more potential wins. An additional horizontal reel also appears below the standard reels.
Although the Mexican food market surrounding the reels looks enticing, it seems completely empty despite the expected buzz of voices in such a place. The wild symbol of the online slot machine features an animated fireworks symbol and players have the chance to win up to 20,000 times their stake on this highly volatile game.
Extra Chilli Megaways Slot Details & Wager Limits
Big Time Gaming's Megaways game engine is used to play the first Extra Chilli slot machine with. The ways to win change with each spin, as between 2 and 7 symbols randomly appear on each reel.
The game offers 117,649 ways to win when each reel has 7 symbols. To get a win or reaction, you need to land 3 or more matching symbols on consecutive reels starting from the first one. The Reactions feature removes the last winning combinations of symbols and replaces them with new ones to grant you continuous wins.
You can play the Extra Chilli Megaways slot with a bet range between 20p to £40 per spin, which makes it suitable for all budgets. There's an Autoplay function located above the spin button which allows you to choose between 5 to 100 spins and set up a loss or single win limit to ensure safe and responsible gambling. The hit frequency rate is 37.87%, meaning that a winning combination will appear in more than one-third of all the spins made. On average, you can expect a win every 2.64 spins.
Extra Chilli Megaways is a slot game with high volatility. It has a red hot theme that matches its variance. The Free Spins feature is more likely to offer the maximum 20,000 x stake win due to its increasing and almost unlimited win multiplier.
Extra Chilli Megaways RTP
Extra Chilli Megaways has a 96.19% RTP, which is slightly higher than its predecessor Bonanza Megaways that has a 96% RTP. Although this RTP number is reasonable, the Extra Chilli megaways demo is a highly volatile slot, so there is a high chance that it could deplete your bankroll. Therefore, you need to exercise patience and rely on luck to succeed.
Theme – red-hot Mexican chillies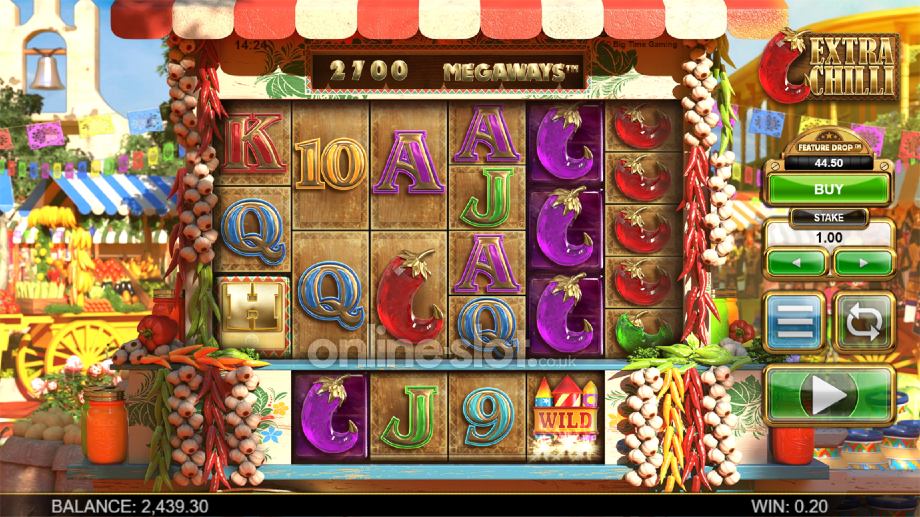 The Extra Chilli Megaways slot has a Mexican theme and is located in a market that sells Mexican street food. According to the creator, Big Time Gaming, the character José Cavadoré, who was originally a Spanish pirate and later became a miner in Mount Rushmore in the Bonanza slot, went on to travel to Mexico with a mule.
Extra Chill has a vibrant and colorful appearance, although its graphics may not be as sharp as other slot games. The accompanying soundtrack is lively and has a Mariachi vibe to it. The reels are bordered by heaps of garlic and chilli, with a mix of playing cards ranging between A to 9 in lower value and four crystal-style chillies.
Extra Chilli Slot: Features
Following the tradition of Bonanza, the rows will shift after each spin, and there is an additional row below reels 2, 3, 4, and 5 (this new row is positioned differently than in the original Bonanza).
You may have had difficulty finding the D in Bonanza, but in Extra Chilli the process for triggering the bonus is more straightforward. Instead of searching for G.O.L.D, the Scatter symbol is a gold letter symbol spelled H.O.T. You need to get 3 of these symbols anywhere on the screen to start the bonus, which gives you 8 free spins. If you get any additional H.O.T symbols, you'll get 4 extra free spins.
During the bonus round, you can increase your win multiplier by 1 on every win cascade without any limit. Additionally, keep an eye out for bowls of chillies that appear under the main play area. If you land 3 or 4 of these, you'll receive another 4 or 8 free spins, respectively. Once you trigger the re-spin feature, you can use the V-gamble system to try and get unlimited win multiplier and even more free spins. If you win on the gamble wheel, you can receive up to 24 free spins. However, there is a risk involved as losing the gamble will result in receiving no extra free spins at all.
How to play
Although Extra Chilli Megaways slot is easy to begin with, there are some important things to keep in mind before you start playing. Don't worry, we will guide you through everything that is relevant and help you get familiar with the game quickly.
The introduction screen provides an overview of the game, and to access the different options available, you need to click on the hamburger menu located in the left-hand corner. Under the "options" tab, you can only turn the sound on or off, which can be a little disappointing.
As far as we can tell, there is no fast play or quick spin option available here. To check how much each symbol is worth per total stake, you can click on the paytable tab. Here's what the Extra Chilli Megaways paytable looks like:
– 6 Purple chillies in a combo pay 50x
– 6 Red chillies in a combo pay 7.5x
– 6 Blue chillies in a combo pay 2x
– 6 Green chillies in a combo pay 2x
– Royal symbols pay between 1.75x and 0.8x for 6 in a combo.
You can find information on game rules, features, and stats under the help tab. Choose your bet level between 20p and £40 and decide if you want to use autoplay. If you choose autoplay, you can set the number of spins between 5 and 100 and also set win and loss limits. Once you hit "start," the chosen number of spins will play.
The 200 Spins Extra Chilli Experience
We were excited to begin our 200 spins test run and decided to reduce the bet level from the default amount of £2 to £1 per spin. This enabled us to easily calculate our wins per total stake. Although we searched for a quick spin option, we were unable to find one. We prefer fast-paced games and are not fond of the brief pause the game takes between spins.
The base game went as expected for this high volatility title. There were many cascading wins, but they didn't result in big wins. We mostly won between 1x and 6x, and also experienced many dead spins during our first 100 autospins.
During the game, we found some coins that lowered the price of the bonus buy option. This strategy from Big Time Gaming encourages players to switch to the real action by highlighting the base game grind. As a result, the bonus buy option becomes increasingly appealing with each spin.
We purchased the bonus buy option for £45, taking advantage of a £5 discount. This allowed us to avoid waiting for the word "H-O-T" to appear on the reels. As a result, we received 12 free spins and chose to collect them immediately rather than using the free spins gamble feature them.
We won a total of 52.6 times our initial bet after some decent wins. The progressive win multiplier eventually increased to 6x, but we only managed to break even as we didn't make much profit from deposit bonus side. The final 100 spins were similar to the first 100, and we didn't trigger the bonus round without help. Good luck with your first spins on Extra Chilli Megaways slot – hopefully, you'll have better luck than we did!
Extra Chilli jackpot (max win)
Although there is no progressive or local jackpot in this game, you can still win a considerable amount of money by playing Extra Chilli slot. You can win as much as £1,000,000 with maximum bets, which is equal to 20,000 times your stake on any given spin.
Extra Chilli mobile & tablet
You can play Extra Chilli on your mobile or tablet, which means you can both play games and take the game with you wherever you go. The big wins could happen at any time, so you could be playing on the subway or at the pub with your friends. The game works on Android, iPhone, and iPad, so it's fully operational on all mobile devices.
Extra Chilli: Verdict
If you're a fan of Megaways, you'll love Extra Chilli as a follow-up to Bonanza. The game has a gamble wheel that can be thrilling when you win, but devastating when you lose. This makes it a great choice for thrill seekers, rather than those looking to relax. Overall, Extra Chilli is one of the best slots ever created, especially for hardcore gamers who want an adrenaline rush.
Extra Chilli Slot FAQs
What is the Return to Player of Extra Chilli Megaways slot?
The RTP of the game varies depending on the availability of the Buying Feature Drop. If it is not available, the RTP ranges between 96.15% and 96.41%. However, if this option is present, the RTP increases to a range of 96.26% to 96.82%. It is worth noting that the industry average for RTP is around 96%, and you may find more information on payout percentage here.
Is there a free spins mode in this game?
The most exciting feature in Extra Chilli Megaways slot is the free spins bonus round, which is activated by getting 3 scatter symbols that spell "H-O-T" on the reels. You have the option to gamble for more than eight free spins, but there is a chance that you could lose them all. During the bonus round, there is an unlimited progressive win multiplier that increases by 1 after every win/cascade.
What is the Feature Drop option on Extra Chilli Megaways?
The option to collect coins to purchase the free spins bonus round for 50 times your stake is only available in specific areas. Additionally, you will earn coins during gameplay, and the more coins you collect, the lower the cost of buying the bonus round becomes.
How volatile is Extra Chilli Megaways?
This game is very unpredictable, so you may experience occasional big wins as well as significant changes in your bankroll.
What is the biggest win possible here?
By playing Extra Chilli Megaways bonus slot, you have the chance to win a maximum of 20,000 times your initial bet. That means if you wager the highest possible amount, you could potentially win up to £800,000.
How many winning ways are available in Extra Chilli Megaways?
The game features a maximum of 117,649 Megaways and every spin is one-of-a-kind because the number of ways to win is unpredictable.
Can I play Extra Chilli Megaways slot for free?
It is indeed possible to play the free demo game of Extra Chilli Megaways. To do so, simply scroll up to the top of this review page. Additionally, you will find a variety of online slot casinos that offer this game with a great welcome bonus.