The online slot game called Eye of Horus is developed by Blueprint Gaming and Merkur Gaming (a trademark owned by www.gauselmann.de) and is themed around Ancient Egypt. If you get 3, 4, or 5 scatter symbols on the screen, it will trigger a free spin round. During this round, the lower-paying symbols will gradually be replaced by higher-paying ones through symbol upgrades. You can also get identical symbols to re-trigger this feature.
Pros
Free spins feature with symbol upgrade
Win up to 10 000x your stake
Medium volatility
Expanding wilds
Cons
Does not stick out in any way
A bit boring and generic Egyptian theme
Not that many special features
Eye Of Horus: Slot review
You can play the Eye of Horus free play slot on Slots Temple at your convenience on any desktop, mobile or tablet. Merkur has made the game available on all platforms. Additionally, a new full play Eye of Horus Megaways slot is coming soon, promising players up to 117,649 ways to win with each spin.
Theme & Storyline
The slot game features an ancient theme that will delight history enthusiasts, but even if history is not your thing, there are other exciting elements to enjoy. Game developers have always looked for captivating themes to keep players interested since the inception of electronic slot machines.
Button Functionality
Paytable
Before spinning the reels, click on the slot paytable button to view the possible winning lines, bonus rounds, and symbol values. This information will help you understand the game better and know what to look for on the next reels spin.
Bet/stake
To change your bet for each line, use the plus and minus buttons. Keep in mind that there are ten lines available.
Autoplay
Clicking the auto start button initiates the automatic start mode, causing the two games within to start spinning automatically. Each spin is played out consecutively until auto start is stopped by clicking the button again, switching the game back to manual spin mode. Use the ◄/► buttons to set the number of games to be played using auto start. Click the left button to decrease the number and the right to increase it. The number of automatic spins will change accordingly and the current number of free games left to be played will be displayed between the ◄/► buttons.
Spin
To start playing, click on the spin button and the luxurious reels will begin to move.
How To Play
To begin playing, follow these quick steps:
1. Once the game loads in your browser, view the paytable by clicking the i button to see the payouts. Your wins are displayed as a multiple of your coin bet.
2. Adjust your bet by clicking the up and down arrows on the left side of the reels.
3. Optionally, you can use the autoplay function for up to 100 spins while setting a loss/win limit.
4. Lastly, press the spin button and play Eye of Horus to try and win!
Betting Options in Eye of Horus
The game has a classic layout of three rows and five reels with 10 adjustable paylines. It's recommended to keep all ten paylines active at once to increase the chances of winning. You can choose your own stake amount from between 0.10 and 100.
Landing Wins
To win a prize, you need to have at least three of ten coins with the same symbols in a row on an active payline, from left to right. The highest win per line will be counted, and any wins on other lines or scatter wins will be added together to determine the final payout.
If the Eye of Horus shows up in the game, your bet will be multiplied by 500. Also, Horus, himself will appear on the reels as a wild symbol that can expand to cover the entire reel. The Horus wild can replace all of the regular symbols, improving your bet amount chances of winning.
Graphics
The game takes place on the walls of an ancient pyramid that was constructed by the Egyptians and served as a burial place for their rulers, such as the pharaohs, who were considered to be incarnations of their god Horus. As a result, archaeologists discovered that Egyptians wrote Horus's falcon emblem and name over the entrances to ancient pyramid built over their tombs.
The is set inside a pyramid, and the symbols on the reels match the hieroglyphics that are inscribed on the pyramid walls. Along with the standard A, K, Q, and J symbols, the reels also display enigmatic-looking hieroglyphs such as the Eye of Horus, Anubis, Horus depicted as a bird, a blue scarab, and two ankhs.
Eye Of Horus RTP
The Eye of Horus slot has a RTP of 96.31%. This means that over the long-term, for every £100 a player spends on the game, they should expect to receive a £96.31 return.
Volatility
This slot game has a low to medium level of volatility. This suggests that players can expect to win frequently but the payouts may not always be very high. They are generally lower than those of high to medium volatility other slot games.
Key Features
Take a trip to see the Pharaoh with this smooth 5-reel slot
Although ancient Egypt and Germany may not be commonly associated, this slot game was actually developed in Germany. The game's playing area is designed with a focus on efficiency, without any unnecessary embellishments or distractions.
The Eye of Horus casino game may have a limited number of paylines, but its sizeable jackpot attracts a lot of players, making it one of the most popular slots in Germany. However, it's possible that some of its popularity is due to home team preference.
The game has 3 rows and 5 reels, making it easy to start playing right away. However, if you want to understand the game better before playing, you can try it out in free play mode first.
Time to bust out your hieroglyphics dictionary!
The paytable has all the information you need to decode the winning symbols in the Eye of Horus slot game, so you won't need to go as far as learning hieroglyphics. However, you'll still need to become familiar with the several Egyptian symbols featured in the game.
The symbols on the game include Horus (or Ra) with his distinctive eye, scarab beetles, birds, fans, dogs, and other symbols, along with plain 9s, 10s, Js, Qs, Ks and As. Although everything looks great, the number of symbols may seem quite high for the number of paylines.
Horus' bonus round is predictable but pleasurable
To put it simply, if you find three scatter symbols, you can play 12 rounds for free and have a Horus Wild that will enhance specific symbols. You can also obtain more free rounds by discovering extra wilds while playing the bonus round; if you see 1, 2, or 3 wilds, you will get 1, 3, or 5 free rounds respectively.
Deciding between "added value" wilds or a multiplier for your bonus rounds is a matter of personal preference. Based on the information provided above, you may already have your own thoughts about Eye of Horus' bonus round. In all honesty, we would prefer if there was a multiplier included, but that may not be possible.
Grab your archaeology gear and get ready to chase treasure!
The of Horus slot machine can give a maximum payout of $250,000, which is quite impressive considering it's not the newest and slot machine available. The base jackpot for getting 5 scatters or Eyes of Horus is only 1000.
To sum up, there are considerable winning opportunities in this game with a high RTP of over 96%. This means that you can enjoy playing the game for an extended period without running out of bankroll. However, it's recommended to end your session and withdraw your earnings if you activate the bonus round early on during gameplay.
You can explore the pyramids anywhere
The game Eye of Horus has a simple interface, which might not appeal to players who prefer more complex games on their computers, but it actually benefits those who play on mobile devices like smartphones or tablets.
It is difficult to compress 3D games with high-quality graphics to run smoothly on a small screen. However, simpler games with an "old school" feel like Eye of Horus are easier to optimize for mobile devices. If you find it in a responsive mobile casino or online gambling app library, it would be a good option to try out.
You can still include the Eye of Horus in your pyramid!
While it is worth noting that the pyramids were built as tombs, not houses, the analogy still works. The bottom line is that our review of the Eye of Horus online slot is that it is a straightforward game, but it can be enjoyable for some players due to its high payouts and jackpots.
The bonus round in Eye of Horus online slot is not extraordinary, but it provides a few more extra free spins compared to other slots. It is good at restoring a low bankroll and can also offer some extra if caught early. Although not fancy, Eye of Horus is still a decent choice.
The Eye Of Horus Slots Series
Blueprint and Reel Time Gaming would have missed a huge opportunity if they didn't take advantage of the impressive following of the Eye of Horus free play demo.
Fortunately, they recognized the potential for spin-offs, resulting in the creation of some impressive online slot games:
Eye of Horus Gambler
The main difference in this version of the Eye of Horus slot demo is the bonus card gamble feature. When players get three scatter symbols, they can choose from several options, including 8 free spins where the flower and ankh symbols are upgraded to the Eye of Horus, 10 free spins with the flower upgraded to the Eye of Horus, 12 free spins with no upgraded symbols, or a hidden card mystery option with randomly selected special features.
As more symbols are upgraded, the volatility of this slot game increases. This makes it perfect for players who believe that the bonus in the original Eye of Horus slot game could be even more thrilling.
Eye of Horus Megaways
A new slot game called Eye of Horus Megaways has been released by Blueprint Gaming featuring up to 15,625 ways to win and a maximum prize of 10,000x. This slot has a modern look and is designed for fans of contemporary slots, bringing the online version of Eye of Horus up-to-date.
The Eye of Horus Megaways' free spins bonus works similarly to the one in the original Eye of Horus game, with frequent wins with the same symbol, expanding symbols that make it easier to land wins and the chance to enhance symbols. The only notable distinction between the two slots is that the Megaways version offers more opportunities to win.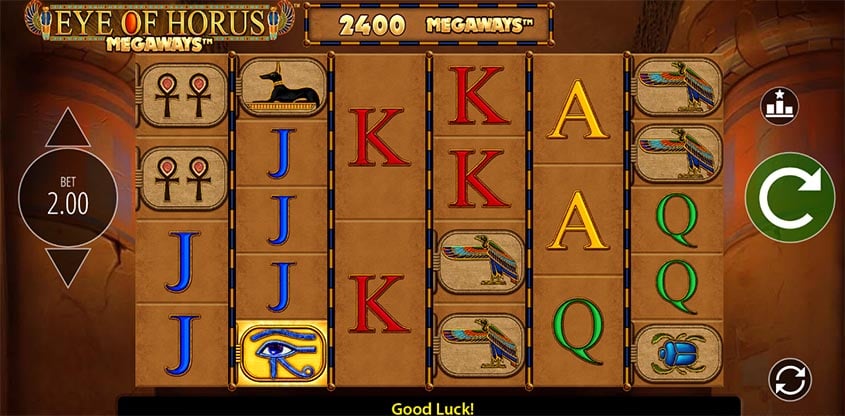 It seems that Eye of Horus Megaways by Blueprint Gaming could have included more features commonly in similar games found in Megaways slot games like mystery symbols or progressive multipliers.
Verdict
The slot game, which was launched in September 2016, has an Ancient Egyptian theme and features colorful symbols and hieroglyphics.
The graphics are simple, but in a good way. Although there is no progressive jackpot, it is not a disadvantage. The game offers many opportunities to win big, thanks to the expanding wilds feature. If Horus expands across the reels, this can lead to a chance to win a big jackpot!
Please note that the Eye of Horus trademark and license belong to Blueprint Gaming and Merkur Gaming, and this website is not affiliated with them. If you click the button, you will be redirected to an external real-money casino website operated by a third party. While we make an effort to match the games we feature with suitable casinos, we recommend that you verify the slot content on the casino's website before depositing money or registering.
Eye Of Horus Slot FAQs
What is the RTP?
For an older online slot, it is impressive that the average long-term expected payout is 96.31%. Typically, these games have payout percentages that are less than 96%.
Does Eye of Horus slot have free spins?
To activate the Eye of Horus free spins, you need to get at least three golden doors scatter symbols on the reels. Once triggered, you will receive 12 free spins round one for free. If you manage to land one, two or three full-size Horus wild symbols, you will earn additional free spins during your gameplay. Let Horus, the god of wealth and royalty, assist you in your quest for victory.
Can I win real money while playing?
To win real money at an online casino, you need to sign up and deposit cash. You can also take advantage of free spins bonuses to play games for free, but be aware that any winnings may be subject to wagering requirements. It's important to check the specific terms and conditions of each online casino before playing.
Do you have any tips or cheats?
Winning on online slots cannot be guaranteed as the games rely on random number generators (RNGs) for every spin, making the outcomes completely unpredictable. Even if you are playing Eye of Horus, you cannot manipulate game rules or foresee the payout. The house always has the edge.
Can I play with no deposit?
You don't need to make a deposit in order to play slots for free at Zlots. The website is completely free and allows you to try out thousands of slot games in demo mode.
Can I download this game?
You can play all games at Slots Temple without downloading any software to your device as they are available as HTML5 games that can be played directly in your web browser.
Is the Eye of Horus a good slot?
The online slot game called Eye of Horus offers free game features and an enjoyable gaming experience to players and has resulted in several sequels and spin-offs that include the same unique bonus features.