Honey Rush 100 is an exhilarating bee-themed slot game developed by Play'n Go. Set on a unique hexahedron 4-5-6-7-6-5-4 Cluster Pays grid, this game offers a thrilling experience. Each winning symbol charges the Rush Meter, which consists of three tiers, through cascading sequences. Once charged, the Rush Meter guarantees a cluster win that can potentially fill the entire grid. The presence of Wilds further enhances the win multiplier, while overcharging the meter upgrades the cloned winning cluster symbol. With a maximum win potential of 15,000 times your stake, Honey Rush 100 promises exciting gameplay and substantial rewards. For a comprehensive review, feel free to explore our detailed analysis below the complimentary demo game.
Pros
Cascading wins w/ winning symbol collection
3-tier Rush Meter unleashes Colony feature
Top-tier Queen Colony can award full-grid win
Wilds hitting the bottom add +1 to win multiplier
Overcharge upgrade the cloned winning symbol
Win up to 15,000x your stake
Cons
Beware of adjustable RTP ranges
Honey Rush 100: Slot Review
In the bustling world of bee-themed slot games, one title has truly stood out from the rest: Honey Rush by Play'n GO, released in 2019. This game has aged gracefully, offering a delightful combination of bee-inspired features, enjoyable gameplay (with some elements that may have drawn inspiration from other sources), and enticing winning potential. Its success has prompted the studio to create a follow-up: Honey Rush 100. For those unfamiliar with the '100' series by PnG, it represents an enhanced version of previous slot games, maintaining a similar appearance and audio while introducing even greater potential for big wins. Honey Rush 100 retains familiar elements from its predecessor, while also introducing exciting changes to entice players to give it another try.
One aspect that remains unchanged is the acoustic guitar-based soundtrack of Honey Rush/Honey Rush 100. The studio wisely decided not to alter this comforting tune, as it creates a strong connection between the two games. The outdoor setting and the hexagonally structured gaming grid also reinforce the link between the games. However, the background in Honey Rush 100 is now more detailed, enhancing the immersion factor. Nature lovers can appreciate the beautiful scenery of flowers, grassy hills, trees, and more in this captivating outdoor paradise. So far, everything is looking and sounding exceptionally positive.
When it comes to selecting bets for honey pot, users can choose their stake ranging from 10 p/c to £/€50 per paid drop by simply tapping the minus or plus buttons. Official statistics are limited at the moment, but we can speculate that players can expect an approximate default RTP of 96.2%. Based on previous Play'n GO releases and the characteristics of the original Honey Rush slot, we can anticipate a highly volatile mathematical model.
Honey Rush 100 is an exciting slot game where clusters of symbols can lead to big wins. The game features a unique 7-reel grid arranged in a 4-5-6-7-6-5-4 formation. To win, you need to connect at least 5 matching symbols. The symbols themselves range from beautiful flowers to valuable coins and even a dazzling diamond.
When you form a cluster with 5 matching symbols, you can expect rewards ranging from 0.1 to 0.5 times your bet. But the real excitement comes when you achieve a cluster win of 37 symbols of a kind, which can reward you with 10 to 50 times your bet.
It's important to note that the rewards in Honey Rush 100 are slightly lower compared to the original game. Nonetheless, the thrill of chasing those clusters and the potential for big wins make this slot game a must-try for any avid player.
How to play
Enjoying the game is just a few clicks away.
Simply load the game on your web browser at an online casino.
Familiarize yourself with the rules, features, and paytable information.
Choose a wager that suits your liking and press the spin button.
Honey Rush 100 is a unique slot game with a board layout of 4-5-6-7-6-5-4. Cluster wins are awarded when 5 or more symbols are connected in adjacent spots. Once a payout is granted to collect winning symbols, the symbols vanish from the board, making way for new symbols to drop from above. The total bet in Honey Rush 100 ranges from €0.1 to €50.
Volatility and RTP
Honey Rush 100 boasts an impressive RTP of 96.20% and exhibits high volatility.
RTP, or Return to Player, represents the theoretical amount of money that players can expect to win back over an extended period of gameplay. With an RTP of 96.20%, Honey Rush 100 offers favorable odds and a fair chance of reclaiming a significant portion of their bets over time.
On the other hand, volatility refers to the level of unpredictability and frequency of winning combinations in a slot game. Honey Rush 100 showcases high volatility, which means that players may encounter less frequent and significant wins together, but they have the potential to be more substantial.
In summary, Honey Rush 100 features an RTP of 96.20%, ensuring favorable odds and fair returns. With its high volatility, players can anticipate less frequent wins but with the possibility of significant payouts.
Theme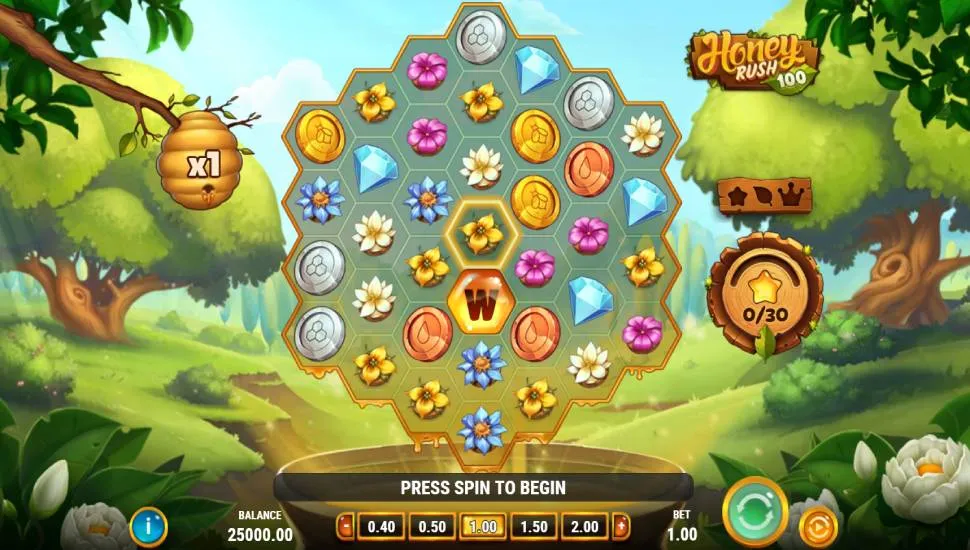 Honey Rush 100 showcases a delightful theme centered around bees and honey, captivating both novice and experienced players with its stunning graphics. The visuals boast vibrant and seamless colors, while the animations breathe life into the game. Moreover, the immersive atmosphere is enhanced by the enchanting music and captivating sound effects that set the perfect mood for this slot game.
The paytable offers a pleasing array of symbols. The low-paying category includes Yellow, White, Pink, and Blue Flowers, with rewards ranging from 0.1x to 10x the wager for landing 5 to 27 other symbols elsewhere on the grid. On the other hand, the high-paying symbols consist of Copper, Silver, and Gold Coins, which offer generous multipliers ranging from 0.2x to 40x the wager. The most valuable symbol is the Diamond, boasting multipliers of 0.5x to 50x the stake.
Notably, the Sticky Wild symbol, represented by Honey, adds an enticing element to the gameplay. It can form part of a cluster pays any winning combination and remains on the board, cascading through empty spots until it lands on a symbol. Once it reaches the bottom, it departs, granting a +1 to the Multiplier. If all 37 spots are covered with Wild symbols, a remarkable cluster rewards players with a staggering 500x the wager.
Experience the captivating world of Honey Rush 100 and indulge in the thrill of its enticing features and impressive rewards.
Mobile compatibility
Honey Rush 100 offers exceptional mobile compatibility, providing players with the opportunity to enjoy the game on a wide range of mobile devices. The game seamlessly adjusts its layout and features to suit the screen size and resolution of smartphones and tablets. Whether you're using an Android or iOS device, Honey Rush 100 guarantees a seamless and captivating gaming experience. This remarkable mobile compatibility is achieved through the implementation of HTML5 technology. This cutting-edge web standard empowers developers to create games and applications that run smoothly across various platforms, including mobile browsers. As a result, players can access and indulge in Honey Rush 100 without the need for any additional plugins or downloads.
Honey Rush 100: Slot Features
In terms of features, Honey Rush 100 follows the pattern of embodying a mix of familiarity and innovation. It boasts an array of exciting elements, including cascading wins, Rush Meter features, Overcharge, Colony features, and a Sticky Wild feature.
Cluster Wins
Once a winning cluster emerges in free position on the board, the game promptly eliminates the corresponding symbols. Subsequently, the resulting gaps are promptly replenished with symbols descending from above. This captivating cascade of wins continues until no new winning combinations surface.
Rush Meter
The Rush Meter charges up as you remove winning symbols using the cascade mechanic. As you reach different collection levels, you unlock various Colony features. Once there are no more wins, any queued Colony features are activated. These include:Level 1 – When 30 symbols are collected at certain levels, the Drone Colony is activated.Level 2 – When 60 symbols are collected, the Worker Colony is activated.Level 3 – When 90 symbols are collected, the Queen Colony is activated.Enjoy the excitement of unlocking these Colony features and take your gameplay to the next level!
Colony Feature:Upon activation, the Drone Colony feature duplicates the central symbol, creating a cluster of at least 7 matching symbols. Similarly, the Worker Colony replicates the center symbol, forming a cluster with a minimum size of 10-15 symbols. The Queen Colony also replicates the center symbol, resulting in a minimum cluster size of 20-37 symbols. This mechanism enhances both the wording and structure, ensuring improved readability and eloquence while preserving the original meaning.
Sticky Wild Feature:
The "W" symbols in this game are wild and can substitute for any other symbol. When a sticky wild is part of a winning cluster, it gracefully descends to a spot below.
If it reaches the bottom edge of the grid, it elegantly drops off into the honey pot, increasing the win multiplier by +1. And if you're lucky enough to fill the entire grid with wilds, you'll be rewarded with an impressive 500 times your initial bet.Overcharge:When 90 symbols are collected, the Rush Meter enters Overcharge mode. With every 15 symbols collected during Overcharge mode, the middle symbol gets upgraded. This upgrading continues until it's no longer possible. If the maximum number of upgrades is reached, the global multiplier increases by +3. After playing the Drone Colony, each wild symbol that reaches the bottom of the screen adds +2 to the multiplier.
Following the completion of the Worker Colony and the Queen Colony, falling wilds award +3 to the multiplier. The maximum value of the multiplier is x100.
About Play`n GO
Play'n GO is a renowned provider of online casino software, recognized for its wide range of innovative slot games. Established in 2005, the company has built a strong reputation for delivering top-notch titles that offer captivating gameplay, stunning visuals, and lucrative bonus features. With an extensive portfolio of games,
Play'n GO caters to diverse player preferences, encompassing everything from traditional fruit machines to thrilling adventures and beyond. Players can anticipate an enjoyable gaming experience, characterized by seamless mobile compatibility and fair gameplay. For an exhilarating adventure, embark on a journey with Book of Dead, a popular Egyptian-themed slot boasting free spins and expanding symbols. Alternatively, explore the unique and entertaining grid-based gameplay of Reactoonz, complete with cascading symbols and special features.
Honey Rush 100: Slot Verdict
Having recently reviewed Sweet Alchemy 100, there was a sneaking suspicion that Honey Rush 100 would be a bee-themed reskin of Moon Princess 100, just like its predecessor. However, it was a pleasant surprise to discover that Honey Rush 100 is more of a sequel to Honey Rush, rather than an unimaginative clone.
This news will surely delight players who enjoyed the first game, as Play'n GO has masterfully blended old and new elements in the design of Honey Rush 100.That being said, some players may feel that Honey Rush 100 doesn't offer enough novelty to justify its release. The core gameplay still revolves around collecting winning symbols to trigger Colony features. Instead of the Jammin' Jars-inspired jumping wild symbols, sticky/falling wilds have been introduced, contributing to the base game itself's win multiplier. Unlike the previous iteration where wild multipliers capped at x27, the win multiplier in Honey Rush 100 can theoretically reach x100, hence its name.
Unfortunately, the exact winning potential was unavailable at the time of the review, which could be a deal breaker for some. Nevertheless, one can assume that it surpasses the original, as is often the case in the '100' series.In conclusion, Play'n GO has once again delivered a solid '100' version of one of its older slots, leaving fans quite satisfied. Similar to Sweet Alchemy, the remake machine has produced playable results.
However, it's worth noting that adding another re imagined slot to the collection may not fully silence the speculation that Play'n GO is running low on creativity and resorting to recycling ideas from their back catalogue.
Honey Rush 100 Slot FAQs
What is the RTP of Honey Rush 100?
The RTP of Honey Rush 100 is an impressive 96.2%, slightly above average. However, it's important to note that operators have the ability to adjust the RTP within customizable ranges.
How volatile is Honey Rush 100?
Honey Rush 100 is a highly volatile game from Play'n Go, meaning that longer sessions may experience fluctuations in your bankroll.
What is the maximum potential win?
In Honey Rush 100, you have the chance to win up to 15,000 times your stake per bonus round, which is a significant improvement compared to the original game.
How does the Rush Meter Colony Feature work in Honey Rush 100?
The Rush Meter Colony Feature is activated by collecting 30, 60, or 90 winning symbols in the same cascading sequence. If you collect more than 90 symbols, the feature becomes overcharged. Every 15 overcharge-collections upgrade the cloned symbol, potentially leading to a full-grid win.
Does Honey Rush 100 have a multiplier system?
Yes, when sticky wilds and symbols hit the bottom of the grid, they add +1 to the win multiplier. Additionally, overcharging the rush meter adds +3 to the multiplier. After the Colony feature has been unleashed, wilds can add +2 or +3 to the multiplier, depending on the level.
Is there a free spins mode in Honey Rush 100?
No, Honey Rush 100 does not have a traditional free spins mode. Instead, the game focuses on the Rush Meter and Colony feature for its excitement.
How many ways to win are available?
In Honey Rush 100, winning combinations are formed by landing 5 to 37 matching symbols in a cluster anywhere on the grid. This game does not feature traditional win ways.
Is Starlight Princess a highly volatile slot?
Yes, the slot has been ranked as extremely volatile by the developer, with a 5 out of 5 rating on the volatility scale.
Can I play Honey Rush 100 Slot for free?
Certainly! You can try out the free demo of Honey Rush 100 at the top of this page (UK players must verify their age first). Additionally, we have provided a list of verified casinos where you can enjoy this game.